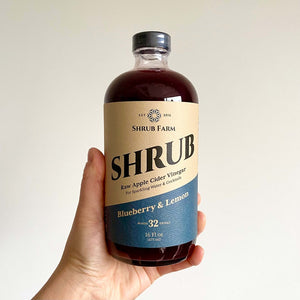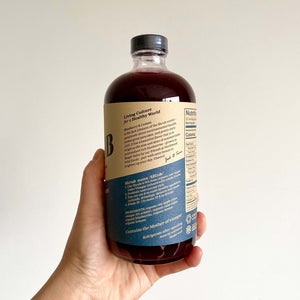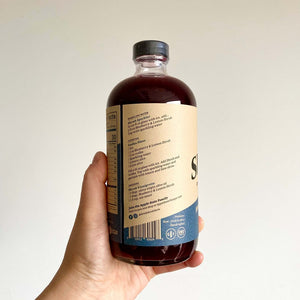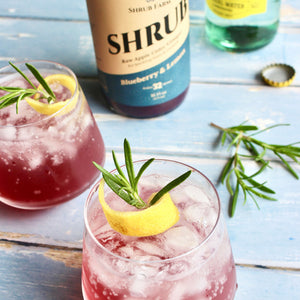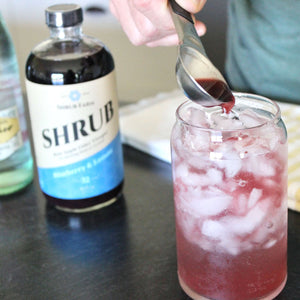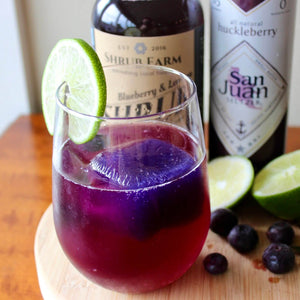 Size: 16 oz
Makes thirty-two 8 oz drinks
Blueberry & Lemon Shrub is the Jack Johnson of the Shrub world -- passionate about environmental health, makes great pancakes, and pretty darn chill. It has a beautiful, mild flavor and is as blue as the seas and skies of summertime Washington. Antioxidant-rich blueberries - grown in Skagit Valley by our friends at Northwest Wild Foods - pair with zesty lemon to brighten up easy-breezy vodka tonics, fluffy pancakes, and bubbly blue mocktails. Best enjoyed after mountain biking or sea kayaking!
✓ Made with raw organic Apple Cider Vinegar with the Mother (6% acidity, 20% stronger than other brands)
✓ Made with whole fresh fruit and herbs
✓ Hand crafted
✓ Raw-fresh and alive. Unpasteurized
✓ Prebiotic
Ingredients
Organic raw apple cider vinegar (6% acidity), organic cane sugar, organic blueberries, organic honey, organic lemons.
How to use
In an 8 oz glass with ice, add 1 tablespoon of Shrub and top with sparkling water. Find more easy recipes here. We love making a simple Zero-Waste Vinaigrette or getting decadent with a Shrub Float. 
Shrub Q & A
Shipping
Free shipping on orders of 4 bottles of Shrub (or orders over $90) after discount applied and excluding shipping charge. Free shipping is valid on order shipped to a single U.S. address. No code needed.

Most orders will ship out the next business day.
Shipped anywhere in the U.S. via UPS or USPS (1-8 business days).

Order of 1 bottle - $5.99
Order of 2 to 3 bottles - $9.99
Order of 4 bottles - $15.99 (*Free shipping on orders over $90)
Order of 5 bottles - $19.99 (*Free shipping on orders over $90)

*Shipping one sampler 3 pack = one 16oz bottle