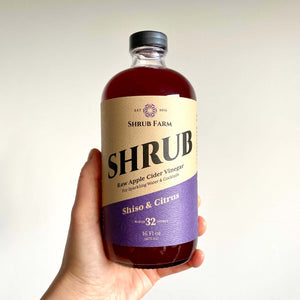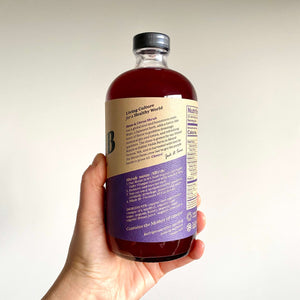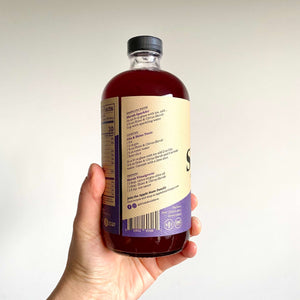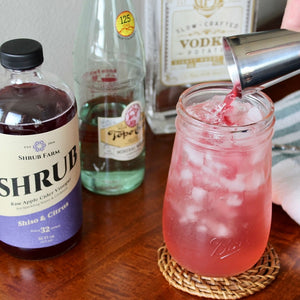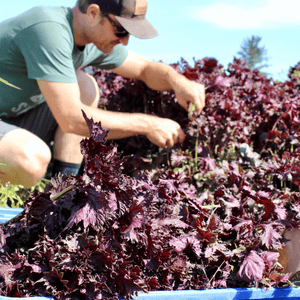 Size: 16 oz
Makes thirty-two 8 oz drinks
December 2021, we changed the formula and now it has 30% more Shiso!
Shiso & Citrus Shrub has a global soul and hometown roots. Shiso, a Japanese herb, adds a plum-like burst of flavor to goddess dressings, botanical gin and tonics, and refreshing seltzers. The shiso is grown by our friend Roslyn at Rabbit Fields Farm in Mount Vernon, WA, and is harvested with love by the Shrub Farm crew (we've got the purple hands to prove it!).

Shiso is a powerful herb that is not only gorgeous and delicious - it's also good for your health! Shiso contains high levels of Vitamins C, and K, as well as providing a healthy dose of potassium, iron, and magnesium. 
Those beautiful deep red and purple colors indicate the presence of anthocyanins. Anthocyanins are being studied for their potential to positively impact human health, including "improved vascular health, cancer prevention, and bone health". 
There's current research about the possibility that shiso could be effective in preventing the onset of diabetes! 
Shiso isn't just the subject of modern medical inquiry and discovery. It's been used as a healing herb for thousands of years. It's currently known as one of Japan's seven main flavorings, though it has wider origins and usage across much of Asia. 
Shiso has been used as a medicinal herb in Traditional Chinese Medicine for thousands of years. "Its use was documented as a part of a medicinal formula that dates back to 1110 AD, in a book written during the Song Dynasty." 
Not to mention, shiso just tastes delightful! It's a unique flavor that shines in creative cocktails, mocktails, and culinary creations. Check out some of our Shiso & Citrus recipes and discover for yourself the wonders of shiso!  
What does shiso taste like? - It tastes like citrusy plum.
✓ Made with raw organic Apple Cider Vinegar with the Mother (6% acidity, 20% stronger than other brands)
✓ Made with whole fresh fruit and herbs
✓ Hand crafted
✓ Raw-fresh and alive. Unpasteurized
✓ Prebiotic
Ingredients
Organic raw apple cider vinegar (6% acidity), organic cane sugar, organic honey, organic shiso, organic lemon juice, organic lime juice.
How to use
In an 8 oz glass with ice, add 1 tablespoon of Shrub and top with sparkling water. Find more easy recipes here.
Shrub Q & A
Shipping
Free shipping on orders of 4 bottles of Shrub (or orders over $90) after discount applied and excluding shipping charge. Free shipping is valid on order shipped to a single U.S. address. No code needed.

Most orders will ship out the next business day.
Shipped anywhere in the U.S. via UPS or USPS (1-8 business days).

Order of 1 bottle - $5.99
Order of 2 to 3 bottles - $9.99
Order of 4 bottles - $15.99 (*Free shipping on orders over $90)
Order of 5 bottles - $19.99 (*Free shipping on orders over $90)

*Shipping one sampler 3 pack = one 16oz bottle