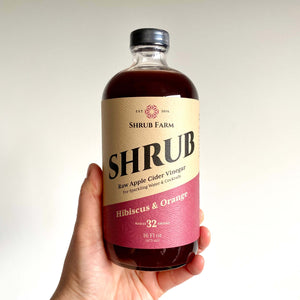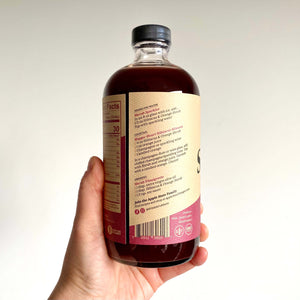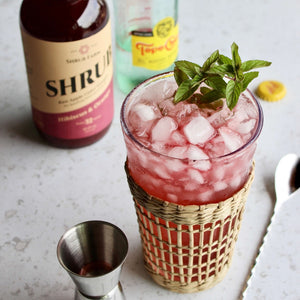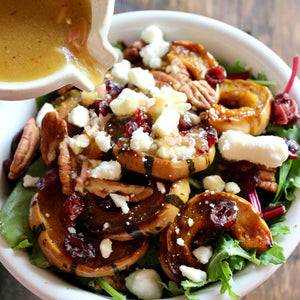 Size: 16 oz
Makes thirty-two 8 oz drinks
Hibiscus & Orange Shrub is the coolest kid on the block. The sweet-and-sour flavor plays a starring role in punchy salad dressings, swoon-worthy mimosas, or even drizzled over vanilla ice cream. This Shrub bursts with Vit. C from organic hibiscus grown by a family farm on the beautiful island of Molokai. Paired with fresh oranges and the digestive power of raw apple cider vinegar, it's a gorgeous addition to any bar or pantry.
✓ Made with raw organic Apple Cider Vinegar with the Mother (6% acidity, 20% stronger than other brands)
✓ Made with whole fresh fruit and herbs
✓ Hand crafted
✓ Raw-fresh and alive. Unpasteurized
✓ Prebiotic
Ingredients
Organic raw apple cider vinegar (6% acidity), organic cane sugar, organic oranges, organic honey, organically grown Molokai hibiscus flowers.
How to use
In an 8 oz glass with ice, add 1 tablespoon of Shrub and top with sparkling water. Find more easy recipes here. We love adding a new twist on Orange Chicken or celebrating the little things with a simple Hibiscus Spritz. 
Shrub Q & A
Shipping
Free shipping on orders of 4 bottles of Shrub (or orders over $90) after discount applied and excluding shipping charge. Free shipping is valid on order shipped to a single U.S. address. No code needed.

Most orders will ship out the next business day.
Shipped anywhere in the U.S. via UPS or USPS (1-8 business days).

Order of 1 bottle - $5.99
Order of 2 to 3 bottles - $9.99
Order of 4 bottles - $15.99 (*Free shipping on orders over $90)
Order of 5 bottles - $19.99 (*Free shipping on orders over $90)

*Shipping one sampler 3 pack = one 16oz bottle