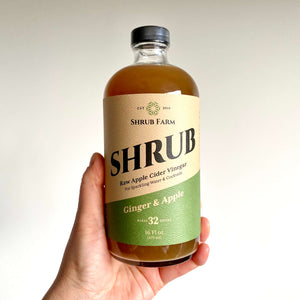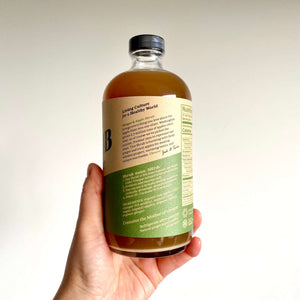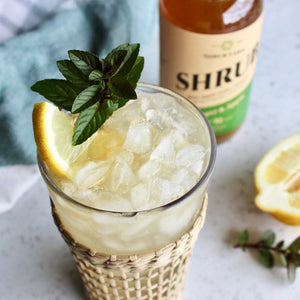 Size: 16 oz
Makes thirty-two 8 oz drinks
Ginger & Apple Shrub brings everything you love about the Apple State into one elixir. Washington grows 2.5 million tons of apples every year, so of course we've picked the juiciest, freshest ones to represent our state. This Shrub is bursting with feisty ginger and local apples for making whiskey gingers, warming tonics, and unique marinades. Add a natural energy boost to your next trip to the park or mountain adventure!

✓ Made with raw organic Apple Cider Vinegar with the Mother (6% acidity, 20% stronger than other brands)
✓ Made with whole fresh fruit and herbs
✓ Hand crafted
✓ Raw-fresh and alive. Unpasteurized
✓ Prebiotic
White ginger starch settles
We use whole ginger root for our infusion. Therefore a layer of ginger starch may settle in the bottle. It's fine to leave the starch on the bottom, simply shake and enjoy.

Ingredients
Organic raw apple cider vinegar (6% acidity), organic cane sugar, organic apples, organic honey, organic ginger.
How to use
In an 8 oz glass with ice, add 1 tablespoon of Shrub and top with sparkling water. Find more easy recipes here. We recommend the hug-in-a-cup House Call Toddy or a healthy, refreshing Carrot-Ginger Sunshine Juice. 
Shrub Q & A
Shipping
Free shipping on orders of 4 bottles of Shrub (or orders over $90) after discount applied and excluding shipping charge. Free shipping is valid on order shipped to a single U.S. address. No code needed.

Most orders will ship out the next business day.
Shipped anywhere in the U.S. via UPS or USPS (1-8 business days).

Order of 1 bottle - $5.99
Order of 2 to 3 bottles - $9.99
Order of 4 bottles - $15.99 (*Free shipping on orders over $90)
Order of 5 bottles - $19.99 (*Free shipping on orders over $90)

*Shipping one sampler 3 pack = one 16oz bottle